Chocolate Chip Cookies Recipe
One delicious temptation is the aroma of freshly baked chewy chocolate chip cookies from the kitchen. Once you see them, you won't resist their chewy delight for your taste buds!
Do you have a chocolate chip cookie recipe that you've made and know it is a good one? Please share it with us so others can try it too. Include a photo of it, if possible…just click here to share your recipe.
Click Image to Shop for Cookbooks
Need:

Large bowl
Spoon
Mixer
Cookie sheets
Wire rack


Ingredients: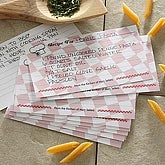 Click Image to Shop for Personalized Recipe Cards
1/2 cup granulated sugar
1/4 cup packed brown or dark brown sugar
1/4 cup (1/2 stick) margarine, softened
1 teaspoon vanilla
1 egg
1 cup all-purpose flour
1/2 teaspoon baking soda
1/4 teaspoon salt
1 cup semi-sweet or dark chocolate chips
1/4 cup coarsely chopped nuts (optional)



Directions:

Heat oven to 375°F/190°C.
In a large bowl mix sugars, margarine, vanilla and egg.
Stir in flour, baking soda and salt.
Stir in chocolate chips and (optional) nuts.
Place one full teaspoon dough 2 inches apart on ungreased cookie sheet.
Bake 8-10 minutes or until golden brown.
Slightly cool then remove from cookie sheet.
Cool on wire rack.
Makes:

About 2 1/2 dozen.


Return from Chocolate Chip Cookies to Recipes